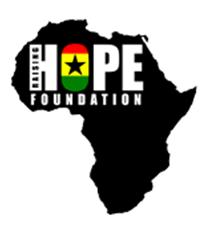 Last week we (RHF Trustees) we decided that we would dedicate the month of May to praying for Gods blessing, guidance and provision for our project in Santrokofi, beginning with 24 hours of prayer… in which someone, somewhere, for a continuous 24 hours will be praying for the project. We believe that if we step out in faith God will bless this work. He's done it in the past, and he can do it again! This time though we are really going for it, we worship an awesome God… he can do anything, so we're going to ask him to provide the money needed to complete the orphanage home by the end of 2012.
We want to start by giving thanks to God for all he has done so far. In 3 years we have raised over £65,000, chosen a plot of land, hired the lovely Emile, and built a home with a roof on it. We've gotten to know the kids and leaders of Santrokofi, running summer schools and providing sponsorship for further education. None of this has been without it's trials, but God has protected us, guided us, and provided for us.
- Please pray for Gods continued blessing in terms of financial provsion. That he would bless our summer fundraising events, everyone who is going out and seeking sponsorship – let God put the plights of these children on their hearts.
- Pray for successful grant applications, (in particular an outstanding application with St Marys University), and opportunities for corporate sponsorship/ matched funding.
- Recently we have officially joined forces with a number of people from Santrokofi who are now living in the UK and want to help us – pray that this union would be fruitful, that we can support each other, both financially and with their knowledge of the village and its people.
- Please pray for Agnes, for her health, her strength. Pray for guidance for her as she daily faces the trials of running a school, caring for children and being in charge of building projects.
- Pray for the Children of Santrokofi. We have recently been informed that many of them are walking the streets in the day, whilst their carers walk long distances to farm. We are now looking at setting up a place that they can go to/ sleep at if necessary in the interim to opening the orphanage. This is something we are working on with Manaseh Mulba (lives in London) and a lady from Santro who is currently in Accra (Magaret). Please pray that this can get going until we get the home open.
Pray for the schools, and the teachers. Last year their was a high failure rate at the end of term exams.
- Please pray for those students we are currently sponsoring – Jones, Peace, Lucy and Evelyn.
- Please pray that God would bless the work of others helping Agnes, and that we and them can work together to maximise the support we are giving to Agnes and the children.
- Please pray for Gods guidance in the way we work with the board in Ghana, particularly in terms of supervision of the project.
- Please pray for all the children living with Agnes, and Saviour has he continues to go live in Accra.
- Finalllllly, please pray that we would have a successful summer trip to Ghana (August 12th – Spet 2nd), that God would provide for all of those who wish to come, that we would be safe and remain healthy, and that we would continue to build relationships with the children and adults in Santrokofi.
To learn more please visit:
http://www.sisterkinza.blogspot.co.uk/
http://www.raisinghopefoundation.co.uk/