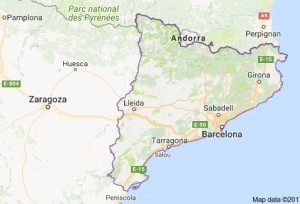 FREEDOM John 8:36 "So if the Son sets you free, you will be free indeed." The recent struggle for independence by Catalonia has dominated news headlines in recent weeks. One young person who had voted in favour of independence was asked by a news reporter what they really wanted when the results of the referendum were announced. They replied in one word; "Freedom"! That got me thinking. The Bible has so many references to freedom. There is almost a danger we get immune to them. I'll come back to the verse in John 8 at the top of this blog in a moment but here is a selection: Firstly, the personal experience of the Psalmist: Psalm 118:5 "Out of my distress I called on the Lord; the Lord answered me and set me free." This was a heartfelt acknowledgement that a position of helplessness could be changed. However only the Lord could do this and what's more….he did. The power of freedom however is not just a "get out of jail" card. It is a way of Christian living and we are supported in that by God himself in the third person, namely the Holy Spirit as Paul reminds us in 2 Corinthians 3:17 "Now the Lord is the Spirit, and where the Spirit of the Lord is, there is freedom." Back to Catalonia for a moment. Most if not all of us will know the capital is Barcelona and, depending on your personal interests, you will know it for its famous building works by the renown architectural artist Antoni Gaudi, such as the Sagrada Familia or the famous 99,000 seater Camp Nou stadium on the west of the city where Futbol Club Barcelona play their home matches.
Catalonia itself however is home to nearly 8m people and the autonomy they have had until this crisis goes back to 1713 when following the treaty of Utrecht, Spain ceded Gibraltar to Great Britain and Great Britain handed Catalonia back to Spain, subject to certain commitments by the Spanish to uphold local autonomy. However many Catalonians want more, as the recent vote by 90% of its citizens when 43% turned out indicated. Future uncertainty, infighting, and broken promises is what we see on our news headlines in Spain at the moment, whilst many of its citizens dream or yearn for a better future but cannot be sure of it.
Contrast that with what Paul says in Galatians 2:4 "…our freedom that we have in Christ Jesus". Freedom in Christ is true freedom. Until we understand and accept Him as Lord and Savior, we are locked in permanent bondage to sin, shackled up by many chains. Give your heart to Jesus today and shake off those chains, if you have not already. We are not promised tomorrow, so do not delay! Start your journey of freedom with Jesus Christ! For those that are free, stay strong and finish the race well!
Kevin
Elder
November 2017