A few weeks ago we (Elliot & Megan) went along to 'Saved2Serve, a weekend for 15-25 year olds aimed at "Glorifying God by propelling young people into the Lord's service for the strengthening of the churches". This year's event, held at All Nations Christian College in Hertfordshire, focused on how we as ordinary Christians serve an extraordinary God.
This year's talks were led by Barry King originally from across the pond, now pastor of Dunstable Baptist Church. He brought multiple challenging messages focussing on the book of Philippians, including a few names you may never have heard of like Euodia, Syntyche and Epaphroditus.
The talks touched on how these characters were outwardly ordinary but made big impacts on those around them and encouraged us to do the same. There were also some fascinating workshops touching on big issues such as LGBT and atheism. We found these particularly helpful especially as it was a great interactive and personal opportunity to talk to those facing similar challenges in communicating the gospel.
The weekend was also a great opportunity to socialise with other Christian young people, particularly when you're lost in a field with them…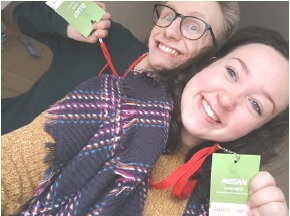 But overall a very enjoyable weekend and we can't wait to see a few more friendly faces there next year!
Elliot & Magan