Psalm 133v1 is very familiar to us as a church family. "How good and pleasant it is when brothers live together in unity". The wording can vary slightly between Bible versions, where "Brothers and Sisters, just Brothers or most recently God's People" are used to de-scribe those encouraged to live in unity.
I was reminded of this verse whilst I was on holiday last month with my brother. Whilst we have visited each other, with him coming to the UK or us going to California, this was the first time we have taken a holiday together in decades and the last time was with our parents! The venue was France and it struck me that Steve has also holidayed here with his brother.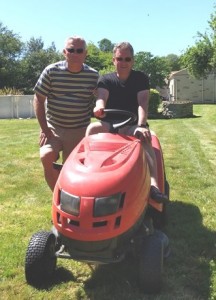 Whilst we had some different preferences for food, places to visit and thing to do, I'm pleased to say we avoided falling out or family arguments. He even cut the lawn for me, twice, or was that the attraction of the tractor mower?
We as a fellowship are also a family with all the stresses and strains as well as the joys and disappointments that are characteristic of them. The challenge of living in unity is an important one. However it isn't always easy and does require patience, forgiveness and love. Do we each make these the hallmark of our behaviours?
Kevin Borrett
Elder
June 2019