This was the theme of our recent Church Awayday at the Dalesdown Centre where through the ministry of Sukesh Pabari we were asked to consider life in our church family.  Families come in different shapes and sizes as does the congregation of our church. When you join in with those gathering for worship does it feel like you are joining in with your family, or do you have a different feeling?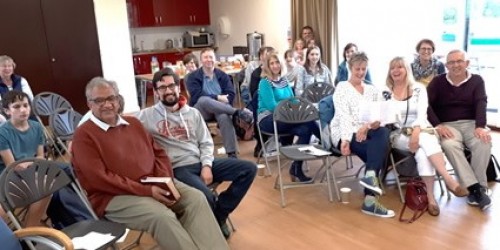 Firstly, we are encouraged to be a family that rejoices!
Why should we rejoice? – it is because we have the Lord Jesus in our lives. The Apostle Paul writing to the church in Philippi repeats this twice in Phil 4:4 'Rejoice in the Lord always. I will say it again:Rejoice! Not that Paul himself was in a position to rejoice, he was writing from prison in Rome yet he still found time to write to the church thanking them for their gifts brought through the visit of Epaphroditus. He still found the positives in his imprisonment saying how his chains had served to advance the gospel whilst there in prison.
We too must encourage one another in every situation so that the gospel may be spread. We are to rejoice in the hope of things to come, the hope of heaven and the certainty that Jesus will come back. Block out the things of this world and look to the Lord always, Rejoice in Him!
In our second session we considered the church as a caring family. We were given the image of how a stonemason when working on a stone uses other rocks to carefully knock off the rough edges. We are also like living stones, being built into a spiritual
house (1 Peter 2:5), in other words we are the stones in God's temple here on earth and each one of us has a different shape and size! He shapes us to fit in and everything we do should reflect his gentleness, 'Let your gentleness be evident to all.
The Lord is near (Phil 4:5) Imagine then how our Lord feels if one of his chosen stones speaks harshly or in nastiness. Then we must deal with the anxieties of life 'Do not be anxious about anything, but in every situation, by prayer and petition with  thanksgiving, present your request to God' (Phil 4:6). What a comfort we can take from that verse and note how we should always start our prayers with thanksgiving to God (this is the most common command in the Bible).The Hebrew word
Shalom describes the peace of God and can be translated as having a balanced mind in the midst of our anxieties, keeping things in perspective. In our third and final session in Phil 4: 7-9 we looked at the church as a biblically living family .
Think the best of everyone and look for the good in them rather than concentrate on their faults and negative aspects. What a difference this would  make in our churches as well as our families if we  could be like this all the time! We were reminded that as individuals we are continually developing, we are still a 'work in progress' and must keep in mind our final destination in the Kingdom of God with our renewed spiritual bodies. There are many around us from whom we can take good examples of how to live biblical lives and Paul himself exalted the church to put into practice those things he had taught them. Three things stand out; Paul was fully committed to Jesus Christ in all situations. Paul walked and spoke with all sorts of people. Paul looked for the best in people.
So ended a day of great blessing and we are thankful for those who helped with all aspects of the day. If you missed out this year please put next years date in your diary as soon as it is available – your family needs you!
Stuart
Elder
July 2019