Henry Alford's hymn puts it like this -
All is safely gathered in, ere the winter storms begin.
So therefore we would say -
Come, ye thankful people, come, raise the song of harvest-home.
Calix will be leading our Harvest Thanksgiving morning service on 13th October, and this will be followed by a Harvest lunch for all.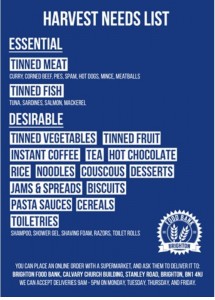 Everyone is invited to stay for the lunch, but please make sure you put your name down on the list.
Harvest display -You are invited to bring non perishable items for this. They will be taken to the Brighton & Hove City Mission for their food
bank ministry in that needy city.
For Specific Prayer Needs – Please see Connect Magazine
Praying & caring for the Community – Standing Court & (New build) Winterton Square

Preaching out this month:
6th – D Ansell – Smallfield am; S Beadle—Rudgwick am
13th DA – Copthorne am
27th DA – Rudgwick am.