We continue to thank God that the church has been able to open so that over the past month Sunday morning services have continued there – with the air conditioning kindly provided by the doors and windows being open. Nice to have a breath of Spring warmth 'unmasked' to bless us!
We always give due attention to safe social distancing and sanitising gel, and it's great that some of us are able to meet physically, and others by You Tube and/or zoom. For members and other baptised friends able to join us at the chapel, we will be sharing communion together following the Easter morning service of April 4th.
Evening services for the moment continue via zoom only. Please join us if you can, one way or the other.
However, don't forget, we have an 'al fresco' Good Friday service in the car park at the rear at 10am, lasting not more than 45 mins., when we'll be able to give voice to singing some suitable hymns in our time of worship. We had a great time there on Christmas morning – and it will surely be warmer than that! Please do feel free to book up and come along. We would just ask if you could park outside the premises for that.
(Just a reminder regarding Communion, otherwise called The Lord's Supper – it's for all church members and baptized believers who love the Lord Jesus in sincerity and truth. A series of Baptismal instruction classes are continuing, and in April these will be on Sundays 4th & 18th, 5-6pm on zoom. If you have not yet been baptized by immersion, please contact Calix if you wish to consider baptism and church membership, or if you have questions about what being a Christian is.
Rehoboth Baptist, Horsham Services in April are as follows:

Good Friday 2nd 10am – 10.45am Pastor Calix (In rear car park for worship & song)
Easter Sunday 4th 10.30am in the rear car park for the opportunity to give voice to praise our risen Saviour Then into the chapel for – 10.45am Pastor Calix (in chapel/ live streamed) + Communion 6.30pm Pastor Calix (zoomed)
Sunday 11th 10.30am Jason Murfitt (GBM) (in chapel/ live streamed) 6.30pm Matthew England (zoomed)
Sunday 18th 10.30am Pastor Calix (in chapel/ live streamed) 6.30pm Pastor Calix (zoomed)
Sunday 25th 10.30am Steve Piggott (in chapel/ live streamed) 6.30pm Roelof Weerstand (LS student (zoomed)

Bible Class in the chapel in the morning service from Sunday 11th, God willing. No Bible Class on 4th.
For those with the Zoom app, note the following:
Each Saturday at 9am – 9.45am Early Morning Prayer (see 'Rehoboth Announcements' on Whats App)
Each Sunday For any zoom happenings, please watch for announcements
Each Wednesday Midweek Fellowship Group A – 7.45pm (see Rehoboth Announcements on Whats App.)
BS & Prayer: with phone-in link via Calix or Steve for those without Zoom.
Midweek Fellowship Group B – 8pm (contact Rachel Cooke for info.) BS & Prayer

NOTA BENE – Men's Group 'Men of the Word' Thursday 8th April at 8pm via zoom. All men invited for a relaxed evening of fellowship. Zoom details from Calix.
Connections for all ladies – Thursday 22nd at 8pm via zoom 'A woman Jesus can teach' iv (see Sandra for more details)
This month's Baptismal instruction classes on Sundays 4th & 18th, 5-6pm via zoom.
District Prayer Meeting Wednesday 14th April via zoom at 7.45pm – details to be advised; devotions by Pastor Frey (Epsom)
For those of us who don't have the technical facilities, please don't despair – sermon notes, and a paper like this can be circulated regularly through your letter box. Let Steve or Calix know if you don't receive a copy.

Elders & Deacons meet by Zoom Mondays – dates as announced.

Praying and caring for the community – this month: Standings Court, Winterton Square
Preaching out this month:
2nd & 4th D Ansell – Copthorne am;
11th DA – Appleyards pm; Stuart Beadle – URC Horsham am; Steve Piggott – Redhill am(tbc)
18th DA – Hope am, SB – Copthorne am; 25th DA – Reigate am; SB – Redhill am(tbc)
Prayer and Praise
Please see COVID Connect for full details.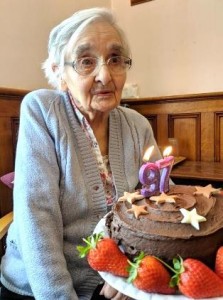 Our thoughts and prayers are much with Judy and Kevin and the family at this time in the passing of Judy's dear mum, Doris Race. The Lord took her home in Rosedale Care Home on 24th March – which would have been her late husband, Alan's birthday. And the funeral has been arranged for Tuesday 27th April, which would have been Doris's 99th birthday.
Both Doris and Allan had an evangelistic heart. They served the Lord for many years with Christian Literature Crusade (CLC) and in a number of roles and responsibilities. It was a privilege to have them move to Horsham in their retirement and to join us in membership at Rehoboth in 2006. Although we have not been able to see Doris at church for a number of years, nor easily to visit her – particularly since the Covid pandemic, she has remained in the hearts of many of us from the days when she would attend the Afternoon Fellowship and Sunday morning services. And she still sought to witness for her Lord in the Care Home
More details of funeral arrangements will be given in due course
God is not unjust. He will not forget how hard you have worked for him and how you have shown your love to him by caring for other believers. Hebrews 6:10