On Tuesday evening 26th September, we were blessed with a visit to the church by Pastor Sandro Farinha from Christ's Church in Funchal on the island of Madeira. We were also pleased to meet Sandro's father in law Andy, who has been driving Sandro around for his visitation to the UK churches.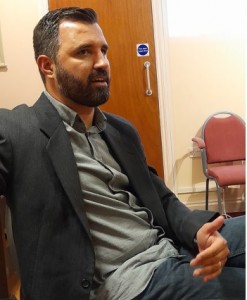 Sandro is pastoring the church with Jason Murfitt, who we have known and supported for many years. Sandro is a native of Madeira but moved to Rugby as a young man, where he met his wife Emma and her family, and where he heard the gospel for the very first time. Sandro shared with us his personal testimony to the saving grace of the Lord Jesus Christ, which was very encouraging. He also shared with us an inspiring in-sight into the life and work of the church in Funchal, including details about recent baptisms – carried out in public on a nearby beach! We also heard about the multi-national make-up of the congregation of the church, which now numbers some 55 people. The church meets in a house in the centre of Funchal but also reaches out to the city with various other activities.
Sandro shared with us a powerful message from Luke 17 11-19, which is the account of Jesus healing the 10 men with leprosy. He encouraged us to adopt a spirit of gratefulness to God for what he has done for us. He shared 3 points in his message:
Gratefulness for who Jesus is – recognising him as Master and Lord
Gratefulness for what He has saved us from – the lepers were unclean and the conse-quences were dire. The sinner without Jesus is unclean and will face eternal judge-ment in hell.
Gratefulness for what we are saved for – praising and thanking God in newness of life and hope of eternity in heaven, because of what Jesus has achieved on our behalf.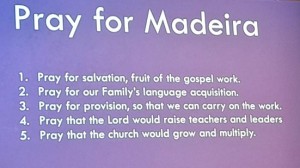 We then spent a good amount of time praying for the items Sandro shared with us and asking the Lord to continue to bless the work on Madeira for His glory.