A funeral in the slums
from the Norgates in  Cambodia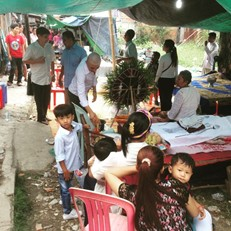 Chet's mum died at 11.10 pm on a Thursday night. Khmer always remember and share the exact hour and minute of someone's death. She was in her 50s and had been suffering from a serious heart condition for a long time. Chet was the first to notice that she had died because he was lying next to her in the one room shared by the family of five.
Chet and one of his older sisters have been baptised and a part of the church in Stung Meanchey for a few years. But their aunts (one of whom lives in the U.S.) very quickly insisted that she have a Buddhist funeral. Money was spent to invite a priest and monks from the local temple.
Chet was forced to have his head shaved in keeping with traditional religious practice; and because Chet's father is a poor, indebted man he had no choice but to follow the wishes of these richer relatives.
We were saddened by many of these things when we went to meet the family at the funeral. But what struck us was that fear lay at the heart of the older sisters' response. They needed to have the monks come to chant over their sister's dead body because of fear that her spirit may haunt them.
We wondered if the aunts were a little scared because they had not helped their sister while she was alive and struggling with great poverty in the slums?
But as we attended this ceremony we had the privilege of going with Om Savorn, a leader in the church. Om Savorn had been with Chet soon after his mum died and now at the funeral she comforted the children with the words of Jesus and, with great courage, urged their father to stop making offerings to the
spirits but turn to the living God for hope.
In that difficult place Om Savorn was a testimony of the hope only found in the Gospel.