Last year I did a Children's Talk on this, so the following paragraphs might seem familiar. Still, it was a while back, and also there might be some reading this editorial who will not have heard that talk – plus this reality came home to me powerfully again this year. So, here it is.
I am referring to the sensation of 'feeling home'. Every year we take our annual pilgrimage to Hungary – as you may know, my family and I have come from there.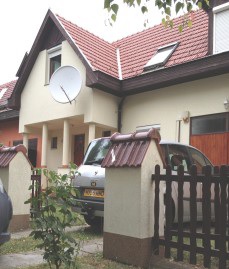 This is our summer holiday: we go and visit the people and country that Bea and I called 'home' for the best part of our lives, where our children were born, from where we moved to the UK in February 2011. When we go, we still say we're going 'home'. There's enough of Hungary in us for us to feel so, but even most importantly, the vast majority of our family live in that land. So, we go 'home'.
Yet, when we go 'home', we leave home, and upon leaving Hungary, we come home. This is where our life is for now. This is where we are making memories now. We have a screensaver on our computer at home that randomly shows our photos stored on it – and many, many, many are from England. Increasingly many from Horsham. This is where we live and work, go to school, where we worship God regularly together with our spiritual family here at Rehoboth. We are home, and while it hurts leaving 'home' at the end of every August, it's good to come home and restart life. Yet… We are not Home. Not yet. As Paul says, "For we know that if the earthly tent we live in is destroyed, we have a building from God, an eternal house in heaven, not built by human hands." (2Co 5:1) It's worth reading v1-10, but here's just v8 for now: "We are confident, I say, and would prefer to be away from the body and at home with the Lord." (emphasis mine) Our home is with the Lord, and we long to experience Him without the groans, pains, head- and heartaches of this world (read ch4 as well), which accompany us even to the places that are most precious to us. Christian: if this longing is in you, it's a good and Biblical longing. Let the troubles you face, the turmoil in the world, the heartaches you experience remind you of the fact that you are on your way Home: first to Heaven, then to the New Creation, in your new body, to forever enjoy and be with the Lord. Jesus will bring you Home, or bring that Home to you. Let me close with a few lines from Enfield, from their song 'Finally home':
When shall I reach that happy place, And be forever blessed? When shall I see my Father's face, And in His safe hands rest?
[…] we will sing on that day "Hallelujah, bless Your name" We will bow at Your throne singing "Hallelujah we are home, Hallelujah, we are home, Hallelujah, we are finally home!"
Pastor Calix
Sept 2017