Katie Warner shares . . .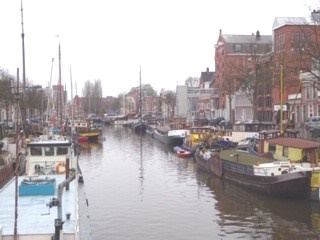 "In November, Harry and I travelled to Groningen, in the Netherlands, to look for a place for him to live, prior to starting work in the January.
We had arranged to see a few places, but it all seems so much harder in a foreign country, but thankfully nowhere is foreign to The Lord.
Staying in a house a few miles out of Gronengen meant that we had a walk to the bus stop crossing one of the many canals, and it was fascinating watching the bridge open as the canal boats passed through.
It was on the first morning, and the mist was sitting over the canal, when to my surprise, I caught sight of the name of one of the boats. I nudged Harry and asked him if I had seen it correctly, as the mist was quite thick. He looked over and yes he declared it's called "Rehoboth "
For both of us it was a wonderful confirmation that Jesus was making room for Harry in Groningen .
In Genesis 26 we read "He (Isaac) moved on from there and dug another well, and no-one quarreled over it. He named it Rehoboth, saying, 'Now the LORD has given us room and we will flourish in the land.'"
The first flat that we viewed was just amazing, and we felt God's generosity in the provision of this wonderful new home for Harry.
And a message from Harry . . .
"Hallo. No, that's not a typo. That's the Dutch for Hello (you can put that through google, translate if you don't believe me). That's the kind of thing I'm having to learn since moving to the Netherlands. At the end of 2018 I moved to the Dutch city of Groningen (pronounced Honinger – really put some phlegm into it), to start a job at the University, carrying out research into the immune system. This is an unusual move for me as a year ago I hadn't heard of Groningen. I had assumed that after I had finished my PhD I would move down South, as I had spent the last four years living in Manchester.
However whilst apply-ing for jobs I mentioned the idea of applying for a job in the Netherlands to my Mum (although I wasn't seriously considering it at the time).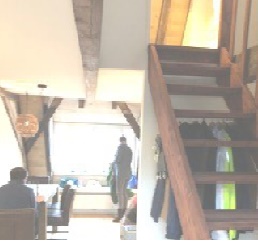 She encouraged me to apply. So I figured as long as I apply to somewhere close to an airport it wouldn't be too scary. Eventually I contacted a scientist in Nijmegen (Ni-may-han) to ask about a job. I received a very posi-tive reply, but was informed that he was moving to Groningen and asked if that was OK. I said yes, and was invited for interview.
This was a difficult process for a Christian, as he took me out to dinner and proceeded to buy me more beer than I could handle. Eventually I had to turn his offer for more beer down. Overall, I thought the interview went well and I was subsequently offered the job. Whilst this has been a very difficult year for us as a family, I have been able to see God's hand at work in stark clarity.
There's more to say about what he's done than I can really write for this piece, so do feel free to ask me in person or message me (I'll be back for Easter). Needless to say I have found a wonderful Church out here in Groningen, and have already made friends, both at Church and at work. Looking forward to seeing you all soon!