Fellowship update:
We have been blessed that, despite lockdown restrictions, the church has been allowed to open so that over the past month Sunday morning services have continued there – with the air conditioning kindly provided by the doors and windows being open. With due attention given to safe social distancing and sanitising gel, we give thanks that some of us were able to meet physically, and others by You Tube and/or zoom. It was good too to share communion on that first Sunday of the 2021 – as we shall be on the first Sunday morning of February, 7th.
Evening services for the moment are via zoom only. Please join us if you can, one way or the other.
(Just a reminder regarding Communion, otherwise called The Lord's Supper – it's for all church members and baptized believers who love the Lord Jesus in sincerity and truth. Pastor Calix is planning to commence a series of Baptismal instruction classes on Sunday 21st February. If you have not yet been baptized by immersion, please contact Calix if you wish to consider baptism and church membership, or if you have questions about what being a Christian is.)
- – - – - – - – - – - – - – - – - – - – - – - – - – -
Please note the different types of Rehoboth happenings in the interest of maintaining and encouraging the fellowship of God's people. But also that others may be invited, or just 'happen', to pick up – tune in to our live streamed morning services via the church web site or on You Tube: https://www.youtube.com/channel/UC2hNsM2dMebnpD1l10qifVg.
Also zoomed evening services are available (see below) – Contact Andrew Cooke for Link in codes for zoom.
Rehoboth Baptist, Horsham Services in February are as follows:
Sunday 7th 10.30am Stuart Beadle (in chapel/ live streamed) + Communion 6.30pm Gordon Hamilton (zoomed)
Sunday 14th 10.30am Matt Steel (in chapel/ live streamed) 6.30pm Matt England (zoomed)
Sunday 21st 10.30am Andrew Smith (in chapel/ live streamed) 6.30pm Pastor Calix (zoomed)
Sunday 28th 10.30am David Ansell (in chapel/ live streamed) 6.30pm Andrew Smith (zoomed)
Bible Class in the chapel in the morning service from Sunday 14th, God willing. No Bible Class on 7th
For those with the Zoom app, note the following:
Each Saturday at 9am – 9.45am Early Morning Prayer (see 'Rehoboth Announcements' on Whats App)
Each Sunday For any zoom happenings, please watch for announcements
Each Wednesday Midweek Fellowship Group A – 7.45pm (see Rehoboth Announcements on Whats App.)
BS & Prayer: with phone-in link via Calix or Steve for those without Zoom.
Midweek Fellowship Group B – 8pm (contact Rachel Cooke for info.) BS & Prayer
NOTA BENE
Men's Group 'Men of the Word' Thursday 11th February at 8pm via zoom. All men invited for a relaxed evening of fellowship. Zoom details from Calix.
Connections for all ladies – Thursday 18th at 8pm via zoom 'A woman Jesus can teach' ii (see Sandra for more details) Baptismal instruction classes commence on Sunday 21st February 5-6pm via zoom. They will be held fortnightly.
Elders & Deacons meet by Zoom Mondays – dates as announced.
Praying and caring for the community – this month: Victoria Street & Trinity Square.
Preaching out this month:
Thurs 4th D Ansell -Hope Chapel am;
7th D Ansell – Hope chapel am;
21st D Ansell – Wivelsfield am
Praise & Prayer
Please make sure you are using the latest Prayer diary for the Fellowship – and using it every day. If you have not received it via Whats App, please contact Steve for a copy.
Grace Baptist Mission – Our Fellowship's giving to the work of sharing the Gospel.

For some years we have donated a percentage of the income received from the Lord's people at Rehoboth to GBM towards the financial support of Nicola Edkins, who has been working amongst Asian families and individuals in the north of England, particularly in the Liverpool, Blackburn, Preston and Halifax areas. After much prayer, Nicola has now left the Mission and is working for her own church in Southport, where she continues to be used of the Lord.
Grace Baptist Mission
At our Annual Members Church meeting recently, it was agreed that we would continue to support the work of the gospel amongst Asians in the north, and, with the agreement of GBM, to transfer our giving to the support of Nathan and Urpha Javed, based in the Bradford area.  Nathan reports: 'We use many means to reach the Asian population in the Bradford area.' He mentions some of the difficulties experienced with the coming of the Covid -19 lockdown, and the fact that before lockdown they undertook leaflet distribution and had a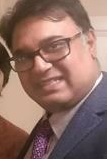 book table in the city, and he was able to 'serve in the Millside Centre providing advice and help to those in need.
This sometimes would lead to opportunities to visit homes, show the love of God and speak of Jesus.
Yet since lockdown, Nathan has found his opportunities to work have not reduced. 'The opportunities in radio increased as many started looking for help in needy times.' He says, 'The comfort they need is what only Christ can give. Also on Zoom and Facebook I've been able to start a new Bible Study. I was in a panel discussion for the Muslims and Christians in Public Life group where I was able to talk clearly about the gospel. How we pray for fruit in this.'
May we be faithful in our giving and praying to support this vital, needful work in the coming days. Remember: Each of you should give what you have decided in your heart to give, not reluctantly or under compulsion, for God loves a cheerful giver. 2 Corinthians 9:7